In 1991, Dr. Amy Hao began her journey as a dentist when she graduated from the Loma Linda University School of Dentistry, along with the completion of a bachelor's degree in biochemistry from the University of California, Riverside, and a year of advanced general dentistry at the University of California, San Francisco. Dr. Hao strives to stay current with the latest dental advancements by completing several continuing education courses throughout each year.
Dr. Hao is currently a member of the ADA®, the CDA, the Tri County Dental Society, the American Association of Oral Systemic Health, and a fellow of AGD (FAGD). One of her greatest goals as a dentist is to inspire patients to be better about their overall health starting with their oral health and to help them learn how these two are interconnected. Dr. Hao is grateful and deeply awed by the trust our patients place in us and will strive hard to ensure they receive quality care to improve their oral health!
In her spare time, Dr. Hao is an avid gardener and amateur florist, having completed several arrangements for the Riverside Art Museum, the UCR Botanical Gardens and the National Charity League. She is married with one daughter and a son.
---
Dr. Raymond Lee has been with us here at Bear Valley Dental Center for several years. In 2004, he graduated from the Loma Linda University School of Dentistry and began his journey as a dentist, providing his patients with quality care to the best of his ability. At our practice, he strives to build strong and long-lasting relationships with each of our patients, centered on trust, respect and honesty.
Dr. Lee enjoys golfing in his spare time, and he is married with two wonderful sons.
---
Meet Our Team
At Bear Valley Dental Center, our team comprises members that are highly valued and respected. We do our best to help patients feel welcome in our dental home and are always devoted to building relationships centered on trust and honesty. We promise to keep you informed during every step of your dental health journey and will gladly discuss with you any concerns or worries you may have about your treatment! If you would like to set up a visit with our dentists in Hesperia, California, feel free to contact us today at 760-244-5600 and ask for Dr. Amy Hao or Dr. Raymond Lee.


In 2016, Estefania graduated from the Regional Occupational Program for dental assisting here in Hesperia. As a new addition to our practice, she enjoys becoming close with our patients and helping them have pleasant experiences during their time with us.
During her time outside of the office, Estefania enjoys going out with her husband in their Jeep with their dog. She is the youngest of two siblings and is recently married.
---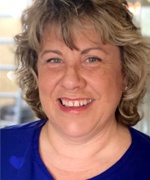 Having been with us for over 25 years, Joanne has a deep appreciation for our patients and feels like they are family to her. She tries her hardest to make patients feel comfortable and at ease because she knows that a friendly face can help make a dental experience more inviting. She enjoys being a part of this office, which she regards as a second home.
In her spare time, Joanne loves to paint rocks and has been known to gift them to patients, especially if they have a favorite football team!
---
Lisa has been with our team since 2018 . She loves her job and her staff and how well our team knows our patients. She also appreciates the loyalty of our patients and how much they love Dr. Hao, Dr. Lee and our team. Lisa is always available for our patients. She greets them by name, makes them feel welcome and helps them achieve their dental goals.
Lisa is married to her high school sweetheart. They have three amazing boys and one adorable grandson. Away from the office she loves spending time with her family building trucks, being outdoors and just having a good time living life.
As one of our dental hygienists, Michelle provides quality dental cleanings for our patients and provides them with easy-to-follow instructions to help them have an easier time taking care of their smiles. She enjoys being in the office where she can build close relationships with her patients and connect with them. Michelle is married with four boys!
---